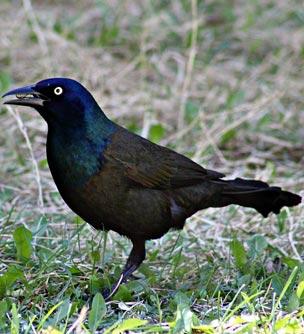 These large iridescent blackbirds are one of the most abundant breeding birds in North America. They will nest in dense colonies with as many as 10 to 30 pairs.
Their diet varies widely from animal and vegetable food. They are becoming a serious threat to the agriculture industry especially during the winter and migration months.
Grackels may also become extremely nest aggressive and are known to attack humans if they venture too close to their nests.
Removal / Control
Removal of Grackles is most successful when employing Falconry using live Birds of Prey, Pyro Technics, and/or Capture Netting™. Waking, Exclusion, and Trapping are also common methods of dealing with this bird.
Grackel Damage
Grackels are becoming a serious threat to the agricultural industry, especially during the winter and migration months. They may also become extremely nest aggressive and are known to attack if humans should venture too close to nesting places. Grackels